Is It Time For Your Eye Exam?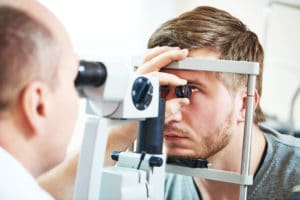 Spring is upon us, and hopefully you are already enjoying more time outdoors. Leaves burst from every branch, and little flower buds emerge from delicate stems. If you are unable to see these finer details of the season, perhaps it is time for an eye exam. Here are our recommendations for eye care services at all life stages.
Eye Services for Children and Teenagers
Children may experience problems with their eyesight, such as far-sightedness and near-sightedness. Younger patients may also develop astigmatism, an abnormality in the curvature of the lens. These issues can be managed with eyeglasses. Other conditions that are often seen in children are:
Amblyopia: A condition in which one eye has poorer vision than the other. Also known as "lazy eye," amblyopia may indicate that one eye is underdeveloped or that the eyes are not aligned properly.
Eye misalignment: Crossed eyes, drifting and differing elevations of the eyes may occur in younger patients. Some types of the condition can be corrected with eyeglasses while others require surgery.
Other abnormalities: Although rare, children are at risk for developing problems with the optic nerves and retina, as well as cataracts.
Adult Eye Exams
Adult patients should be screened for visual acuteness, as well as early signs of conditions that may jeopardize eyesight, such as:
In addition to contact lenses and eyeglasses, adult patients may be good candidates for laser vision correction.
Senior Eye Care
The aging process takes a toll on your eyes, and we screen for common conditions that affect older patients, such as:
Glaucoma
Cataracts
Presbyopia that is caused by changes to the lens of the eye
If you have cataracts, you should understand your options for treatment. Part of the procedure for cataracts involves removing the natural lens of your eye that is clouded and replacing it with a lens implant. Several varieties of lens implants are available, including premium lens implants.
Learn More About Comprehensive Eye Exams. Contact Jacksonville Eye Center.
To learn more about comprehensive eye exams for all ages, as well as presbyopia correction, treatment for blepharitis and our other services, contact Jacksonville Eye Center to schedule an appointment at our office in Jacksonville. You can reach us directly at (904) 355-5555.
Posted in: Eye Exam