IOLs in Basic Terms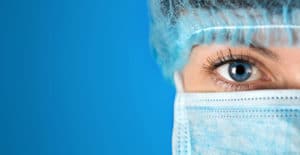 Being diagnosed with cataracts may feel overwhelming, especially when your eyecare professional begins to explain options for intraocular lenses, or IOLs. A basic understanding of IOLs helps you choose the option that is best for you.
What are Cataracts?
Having cataracts means that the outer lens of your eye is clouded. The condition develops as a result of aging, and just about everyone has cataracts to some degree. You may notice that your vision is not as sharp, that objects seem to have an odd color hue or that what you look at seems slightly distorted. Many early cataracts can be managed with prescription lenses to correct the abnormalities in vision. Surgery is reserved for patients who experience significant damage to their vision and have difficulty every day performing fundamental tasks.
What are Intraocular Lenses?
IOLs are replacement lenses that are implanted into the eye after the natural lens is removed. Intraocular lenses are made of synthetic materials that are easily accepted by the body, so the chances of rejection and complications is low. Your eyecare professional considers your insurance coverage when making recommendations, and you may choose premium lenses for a higher out-of-pocket cost.
Can IOLs Help with Other Vision Problems?
Intraocular lenses not only give you a clear lens, but also work to correct farsightedness, nearsightedness and other common vision problems. These options may be considered elective upgrades by your insurance, so we will explain the cost difference with each type of IOL.
What Types of Premium IOLs are Available?
Jacksonville Eye Center offers several premium IOLs for cataract patients.
Symfony IOL® for older patients who rely on reading glasses and want to correct their close-up vision
Tecnis® Multifocal IOLs to help with night vision, seeing clearly at all distances and reducing the need for glasses when driving
Toric IOLs for patients with astigmatism
Multifocal/RESTOR to help patients who need correction at all distances
Learn More About Intraocular Lenses for Cataracts. Contact Jacksonville Eye Center Today.
To learn more about intraocular lenses for cataracts, LASIK vision correction and eye services for patients of all ages, contact Jacksonville Eye Center to schedule an appointment with Dr. Robert Schnipper at our office in Jacksonville. You can reach us directly at (904) 355-5555.