Can I get rid of my eyeglasses?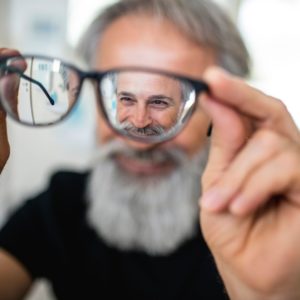 Glasses and contacts can get in the way of everyday life. Whether you're having to switch out your eyeglasses for prescription sunglasses when headed outdoor or dealing with irritation caused by contact lenses, the team at Jacksonville Eye Center understands your frustrations. Wouldn't it be easier to just have perfect vision and forget dealing with prescription contacts and eyeglasses? This dream is easier to obtain than ever with certain procedures including LASIK surgery.
What is LASIK?
LASIK is a special treatment that can be used for patients with poor vision to increase clarity and allow them to get rid of corrective lenses. LASIK reshapes the cornea to improve vision with one surgical treatment. Patients find that with LASIK, patients can achieve the dream of being freed from their contacts and eyeglasses while enjoying sharper vision.
Who is a candidate for LASIK?
Most patients with good overall eye health and vision clarity problems are encouraged to book a consultation appointment with Dr. Robert Schnipper to determine if they are a good candidate for LASIK treatment. Many patients evaluated will not only qualify for treatment, but will find that the treatment is also affordable and fast. Because of the technology used, treatment is reliable and results are always as expected. LASIK has minimal risks and side effects, making it a wise investment in vision health and clarity for most adult patients.
What can I expect from recovery?
Patients who undergo LASIK eye treatment will be given aftercare instructions to follow closely to ensure proper healing. Most patients can expect to take approximately one week off of work and other activities to heal. Common short-term side effects include dryness and vision fluctuations. Most patients experience these issues for anywhere from one to several weeks, and varies from patient to patient.
Connect with the team at Jacksonville Eye Center
If you live in the Jacksonville, FL area and are considering LASIK surgery to free yourself from contacts and eyeglasses, we encourage you to book a consultation appointment with Dr. Robert Schnipper and his team. We are located at 2001 College Street and can be reached by phone at (904) 355-5555.
Posted in: LASIK