What is the Kamra inlay?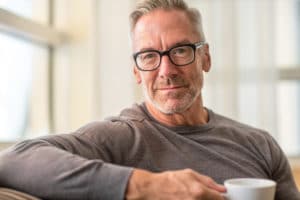 Patients who deal with the inability to read without reading glasses may want to find a way to free themselves from dealing with eyeglasses to enjoy their favorite activities. In situations such as this, our team at Jacksonville Eye Center may recommend the placement of the Kamra inlay.
What is the Kamra inlay?
Dr. Robert Schnipper of Jacksonville, FL describes the Kamra inlay as an implant that is placed into the eye to help focus light properly on the retina. In doing so, it assist patients who might otherwise need to wear reading glasses to see closeup. This device is small, circular, and looks like a tiny contact lens. Dr. Robert Schnipper will place the Kamra inlay into the eyes during a surgical procedure. It allows for clearer vision both close up and at a distance, eliminating many patients from relying on corrective eyewear.
When might a patient desire the Kamra inlay?
There are many reasons why a patient might consider placing a Kamra inlay. Patients who might be proper candidates are patients:
Who want to see clearer both close-up and far away
Who want to eliminate the need for reading glasses
Who are experiencing difficulty seeing close-up for computer use
Who suffer from presbyopia, which can occur during the aging process
How long does the procedure take?
Placing the Kamra inlay is done quickly and easily at Jacksonville Eye Center. The procedure takes less than 30 minutes and is performed with the patient awake and alert. Numbing drops are used to ensure patients are comfortable, and a laser device creates a flap where the inlay is inserted. Patients will be given eye drop medication to use after their procedure, and will need to take a few days off of work to recover.
For more information regarding the Kamra Inlay, contact Dr. Robert Schnipper of Jacksonville, FL
If you live in the community or surrounding cities and are interested in learning more about the benefits of the Kamra inlay, we encourage you to book an appointment at the Jacksonville Eye Center to discuss your desires. Dr. Robert Schnipper's practice is located at 2001 College Street and accepts new and established patients who call for an appointment at (904) 355-5555.
Posted in: KAMRA Inlay