What can cause low vision and how can it be addressed?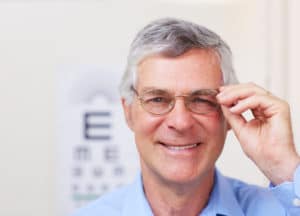 While most issues and common concerns with the vision may include poor vision that can be corrected with contact lenses or prescription eyeglasses, there are other sight loss concerns that may not be improved in this manner. These conditions are commonly referred to as "low vision." Low vision is not complete blindness, but is the inability to see properly due to poor night vision, glare, and blind spots.
How is low vision defined?
Dr. Robert Schnipper of Jacksonville Eye Center follows the definition of low vision offered by the American Optometric Association. This association splits low vision into two common categories including partially sighted and legally blind. A partially sighted person is someone with visual acuity between 20/70 and 20/200 with the use of prescription lenses. However, a person that is defined as legally blind is a person who has visual acuity under 20/200 with prescription lenses and who has a field of vision less than 20 degrees wide. Low vision may include:
Loss of central vision
Loss of peripheral vision
Night blindness
Blurred vision
Hazy vision (glare)
What causes patients to have low vision?
There are many reasons why a patient may develop low vision. It may be due to:
Injuries to the eye
Diabetic disorders
Age-related macular degeneration
Glaucoma
Eye cancer
Brain injury
Retinitis pigmentosa
Inherited disorders
Albinism
Treatment for low vision
In many cases, low vision is permanent, with the exception of treatment for sight disorders such as diabetic retinopathy which can be restored. Patients who are diagnosed with low vision often find certain visual aids helpful for them to maintain a good quality of life. These may include special lenses that filter light, the use of magnifying glasses, and telescopic glasses. Patients may also find themselves using text-reading software, large print publications, and clocks with enlarged numbers as aides to improving their quality of life.
Are you experiencing low vision and need a proper diagnosis treatment?
If you reside in the area of Jacksonville, FL, we welcome you to book an appointment at the Jacksonville Eye Center to obtain an evaluation from Dr. Robert Schnipper. Patients can visit the practice at 2001 College Street and are welcome to call to request an examination at (904) 355-5555.
Posted in: Vision Disorders