Summer Care for Eyes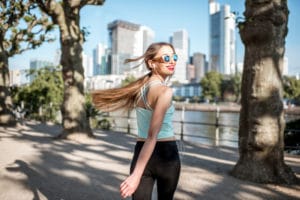 Before you tell us you're checking out for summer, let us stop you. Summer is no time to sit on the couch and stare at the TV, eating junk food, and ignoring your health. Granted, it may be tempting to relax, and we fully support taking some much-needed downtime to go on a vacation or just let yourself unwind.
We just think there should be a limit to how much you let yourself ignore your health over the summer. Keep reading to learn how to keep your eyes healthy this summer.
Sunglasses
Of course, wearing sunglasses on a regular basis is key to keeping damaging UV rays at bay. Whether you're staying home and spending more time hiking or you're going on a big beachy vacation, you're going to want to pack some sunnies. And, not just any pair. Make sure your sunglasses protect you from 100% of UVA and UVB rays to keep your eyes healthy and protected.
Goggles
Goggles can protect you from the chlorine and other chemicals commonly found in swimming pools. You don't want bright red, irritated eyes when you're having a romantic dinner, do you? Another tip: consider throwing away contacts that you've worn in the pool, as they can harbor bacteria that could lead to an infection.
Drink Water
Ah, water. You may be tempted by a cold beer or a salted-rim margarita more often in summer, but it's important to stay hydrated. Balance out those dehydrating alcoholic drinks with some water. When you're properly hydrated, your eyes are able to create tears and keep themselves moist. If you're dehydrated, your eyes could suffer the consequences.
Back to School
We hate to mention school already, but it is important to set your kids up for success. Schedule an eye exam before school starts up to ensure that your kids can see the board and learn everything they need to. If it's been a minute since you've had an eye exam, it's important to schedule one for yourself, too.
Give us a call at 904-355-5555 to schedule a consultation today. We can help you keep your eyes healthy this summer with just a few tips.
Posted in: Eye Care Services