How an Active Lifestyle Can Benefit Your Vision?
There's no mystery that an active lifestyle, which includes a balanced diet and exercise, can improve our overall well being.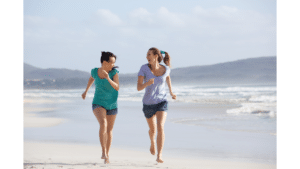 However, many people don't know that being active can also benefit your vision. In fact, studies have shown that exercise can slow or prevent vision loss in 45% of cases. As a result, having an active lifestyle becomes an essential weapon against eye problems. But how does it work, and more importantly, what kind of exercises work best?
Sedentary Lifestyles Promote Eye Disease
First of all, we need to understand the risks of not doing enough exercise and having a sedentary lifestyle. To put it simply, not being active enough makes us prone to vision loss the older we get. For instance, type 2 diabetes, which can be prevented with enough exercise, is a big risk factor for glaucoma, macular edema, retinopathy, and cataracts.
Furthermore, without enough nutrients from a balanced diet, our eyes will have a hard time dealing with infections. The same applies when we don't get enough sleep, or sleep too much. In other words, the less balance we have in our lives, the more we increase the risk of vision problems.
How Can We Reduce the Risk of Eye Diseases?
Usually, exercising three times a week is enough to lower the risk of developing macular degeneration by up to 75%. Not only that, but it also reduces the risk of glaucoma by 25%, while improving
When it comes to nutrition, a well-balanced diet that's high in vitamins and antioxidants can keep your eyes healthy. Therefore, you should do your best to incorporate nuts, fish, and dark green leafy vegetables into your diet. Additionally, limiting the intake of fats can prevent or slow down the progression of diabetic retinopathy.
What Exercise Plan Works Best?
Generally speaking, there are hundreds of exercise plans that can help prevent eye disease and vision loss. However, it's important to understand that every type of exercise works, as long as you do it consistently. Don't stress too much over which works best, but instead, try to find an exercise plan that you can do regularly.
For example, you might enjoy going to the gym, while others prefer to jog or swim. No gyms around your home? Then you can try yoga, pilates, or even rock climbing. And if you want to socialize while you work out, you can give your local sports club or martial arts studio a try. The takeaway is that you need to choose the activity that you enjoy the most since that's the one you're most likely to keep doing. In fact, the same thing applies to nutrition, so try to find healthy foods that you enjoy eating.
Final Thoughts
Overall, having an active lifestyle is an easy way to reduce the risk of vision loss and eye disease. And while exercising and having a balanced diet are important, it's still essential to visit your eye doctor regularly. Only he will be able to notice any hidden eyesight problems and develop a treatment plan.
So what are you waiting for? Schedule a free consultation and improve your vision today!
Tagged with: eye health
Posted in: Eye Care Services, Eye Health