FAQs of the KAMRA inlay for vision correction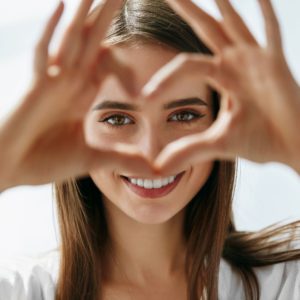 If you are tired of using reading glasses to see clearly, you may be interested in learning more about the options available to you for improving your vision and clarity. With the KAMRA inlay, many Jacksonville, FL area patients are achieving better eyesight and ditching their reading glasses for good!
What is the KAMRA inlay?
Our doctor describes the KAMRA inlay as a special inlay that can be placed to restore vision and reduce the frustrations of patients who use reading glasses to address presbyopia or blurry near vision. This inlay can help patients see both near and far without the use of eyeglasses.
How does the KAMRA inlay work?
The KAMRA inlay is positioned in the cornea. It is thinner than a contact lens, and has a pinhole in the center that allows focused light to enter into the eye. The KAMRA inlay is placed only in one eye to allow patients to see both near and far.
Can the KAMRA inlay be removed?
Absolutely. However, if the inlay is removed, patients will often have their vision return back to its previous strength and clarity.
What should I do prior to having the KAMRA inlay procedure?
It is best for patients to ensure they are proper candidates for this and other procedures in our office by scheduling a consultation appointment. This appointment may include a quick physical evaluation and a run-through of a patient's medical history to ensure they are a good fit for this procedure. Talking with an eye surgeon about your unique needs will help you understand if KAMRA inlays are right for you. It is also vital that patients talk to their doctor about the potential risks and complications of this procedure, and schedule an appropriate amount of time from work, school, and other activities to facilitate proper post-operative healing.
Call Jacksonville Eye Center today to learn more about the KAMRA inlay
The best way to determine if you are a good fit for the KAMRA inlay is to schedule a consultation visit with Dr. Robert Schnipper of Jacksonville, FL. His practice is located at 2001 College Street and can be reached by phone to book an appointment at (904) 355-5555.
Posted in: KAMRA Inlay