Adult Eye Care
Jacksonville Eye Care is pleased to offer comprehensive eye care to our adult patients. Whether you are seeking clear vision, are having a medical problem, or are in need of an eye examination, Jacksonville Eye Center can assist you with all of your eye care needs. Learn about many of the services offered at our Jacksonville, Florida practice below.
Optometric Services & Contact Lenses
LASIK LAser Vision Correction
If you are looking to free yourself from glasses and contact lenses, you may be a  candidate for LASIK eye surgery. Jacksonville Eye Center has been voted the best LASIK eye center in Jacksonville, Florida. Our Board Certified LASIK surgeon, Dr. Robert I. Schnipper has been an industry leader for over 30 years and also has been voted the best LASIK surgeon in Jacksonville. LASIK is a quick, painless procedure that can completely improve your vision!
"I went in seeing 20/200 (legally blind without my glasses on) and when I came back for my post OP appointment, I was seeing 20/15! I've had glasses for 22 years and this is the first time in my life I remember seeing clearly! Thanks Doc and Staff! Everyone was so professional and friendly and supportive." – Jennifer V.

"Great staff and overall great experience. Even more important the lasik surgery is awesome!" – Michael G.
Other Vision Correction Options
If you are not a candidate for LASIK, we offer other vision correction options at Jacksonville Eye Center. Other options include Photorefractive Keratectomy (PRK), Monovision LASIK, Refractive Lens Exchange, Astigmatic Keratectomy, and Premium Lenses. The best way to know which treatment is for you is to schedule a comprehensive eye exam with Dr. Schnipper.
Glaucoma
Glaucoma is the second leading cause of blindness and is actually a group of eye diseases that lead to damage of the optic nerve. Since glaucoma is a slowly progressing disease, patients notice symptoms and are able to get treatment. At Jacksonville Eye Center, we perform Selective Laser Trabeculoplasty (SLT) for patients with glaucoma. SLT lowers the pressure in your eye which may reduce the necessity of more invasive surgery.
Blepharitis
Blepharitis is a common eye disorder in which there is inflammation of the eyelids causing red, irritated, and itchy eyelids. Treatment for blepharitis depends on the type, but Dr. Robert Schnipper at Jacksonville Eye Center is pleased to offer advanced technology in the treatment of blepharitis. We offer BlephEx®, which is a painless in-office procedure that removes scurf and debris and exfoliates your eyelids. Typically, this treatment is repeated at 4-6 month intervals.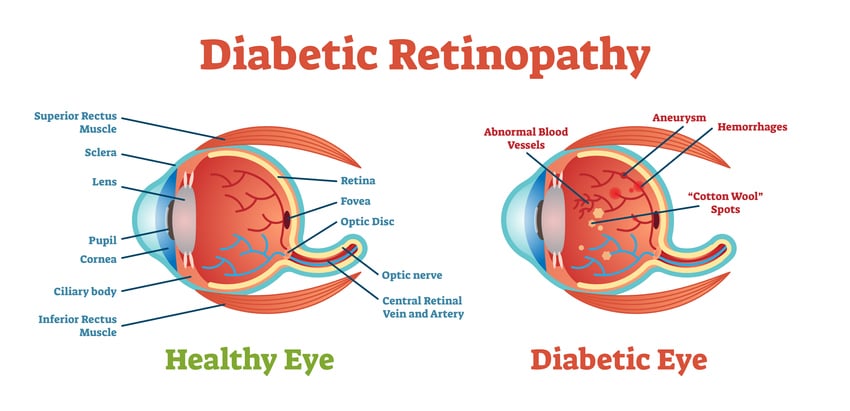 Diabetic Retinopathy
Diabetic retinopathy is the most common diabetic eye disease. Patients will need to work closely with Dr. Schnipper to monitor and treat this disease. For the first three stages of this disease, the most important treatment for you is controlling your blood sugar, cholesterol, and blood pressure. If stage four occurs, laser surgery will be necessary for treatment.
Dry Eye
If you have dry eye, which leads to itchiness, redness, and pain, Jacksonville Eye Center provides treatment options. These include artificial tears, punctal occlusion, and The MiBoFlo Thermoflo®. When you have your comprehensive eye exam at our office, either Dr. Schnipper or Dr. Brown will guide you in choosing the best treatment option for your condition.
Astigmatism
Research shows that almost one-third of the population has some degree of astigmatism. It is a very common imperfection with the eye's ability to accurately focus light. There are many treatments options for astigmatism, including eyeglasses, contact lenses, LASIK, photorefractive keratectomy, and other refractive surgeries.
Routine Eye Care
To maintain good vision and to keep your eyes healthy, it is important to have routine eye exams. During your eye exam at Jacksonville Eye Center, your eyes will be dilated so the doctor can see into your retina, your vision will be checked and you will be screened for eye diseases or disorders. If you experience any changes in your vision between regularly scheduled visits with your eye specialist, you should schedule an appointment as soon as possible!
Schedule a Consultation
For more information about our adult eye care services, contact Jacksonville Eye Center. Call our office at 904-355-5555 to schedule a complimentary eye exam. Our practice serves Jacksonville, Florida and surrounding areas.